Woven Zipper Pulls, Flat &Puffed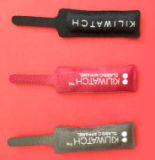 We custom woven zipper pulls to your exact design specification, including shape, size, colour, and style.  It can produce for flat or  puffed (padded).  Super high-definition weaving quality, vivid colour designs, great value for your brand. Our customized zipper pull is ideal awesome accessory for jackets and designer bags.
Rubber Zip Pulls
Our custom rubber zipper pulls can be made in in a wide range of materials and design styles.
Leather Zip Pulls
Leather zipper pulls can be made in real leather and faux leather. They  are often used for independent designers and vintage collections.
Contact us today on below email with your design artwork, and we can start manufacturing  a custom-made zip pull for your clothing business or designer bags.
Telephone: +44 (0)116 3183121
Mobile: +44 (0) 7823800552
Email: sales@woven-printed-garment-labels.com
Email: wovenprintuk@btinternet.com