Wash Care Tags for Clothing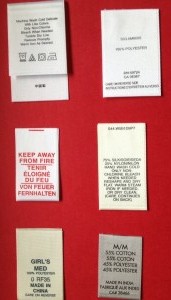 We are able to create and produce Printed Satin Wash Care Labels to suit a wide variety of requirements; from colour, text, shape and size. These labels are designed to make sure that your clients follow proper care to your clothes.
We specialize in designing and producing soft Printed Satin Wash Care Labels for a wide range of clothing manufacturers, designers and wholesalers which can be produced to suit your budget and time frame. We also offer a number of great advantages when ordering our Printed Satin Labels:
A guaranteed cheapest price you pay in England
A quicker lead-time than all other suppliers can offer
A 5% discount from repeated orders
Contact us today for more information about how we can help you or your business with your Printed Satin Wash Care Labels.
Telephone: +44 (0)116 3183121
Mobile: +44 (0) 7823800552
Email: sales@woven-printed-garment-labels.com
Email: wovenprintuk@btinternet.com