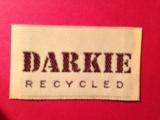 Taffeta Woven Label is the most inexpensive woven garment label. It is a plain weaving textile fabric label; less weave density, soft to the touch. Taffeta woven labels are good durable woven quality that withstands wear and tear.  Taffeta weave fabric label  often used for wash care label, furnishing fabric label, and size label.
You can have up to 12 colored threads on one woven taffeta label.
Woven taffeta label Design
Contact us today to custom woven taffeta garment labels for your textile business. We will help to design and manufacture a low cost and outstanding identification brand clothing label for your brand.
Telephone: +44 (0)116 3183121
Mobile: +44 (0) 7823800552
Email: sales@woven-printed-garment-labels.com
Email: wovenprintuk@btinternet.com