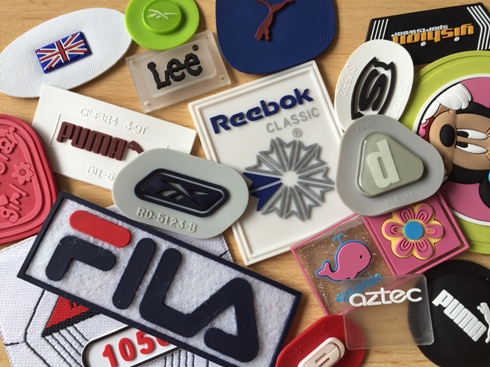 The rubber clothing labels that we produce are made of environmental friendly material. These custom-made PVC and Silicone labels are great brand labels to sew on the outside of outdoor garments, hats, bags and textile accessories. Most suitable for applying on casualwear and sportswear, and footwear.
Our custom-made silicone labels can create a beautiful 3D-effect, made of environmental friendly material; silicone labels are softer, smooth and more elastic than PVC labels.  However, the maximum colour you can have for silicone labels is up to 5 colours.
Our customized PVC rubber clothing labels are also made of environmental friendly materials.  If you are in a tight budget, then PVC labels are the option to go with. PVC labels are cheaper to customize than Silicone labels.  There is no limitation in the number of colours use to produce PVC labels.
 PVC labels are cheaper to produce than silicone rubber labels
 Silicone rubber label has the ability to stretch, whereas PVC rubber labels cannot
Silicone rubber material is a slightly more environmentally friendly material than PVC rubber  material. Silicone  is softer against the skin than PVC label
PVC labels can have a heat resistance up to 45- 50 degree, whereas Silicone labels can have a much higher heat resistance for up to 200 -250 degree.
Our silicone heat transfer labels are stretchable and water resistant. Minimum order is 500 labels.  It can be printed on to polyester woven labels, cotton labels and PU labels.  Silicone heat transfer label can have up to 4 colours, and it can have a matt or a gloss finish. A raised 3D logo is of great importance in creating brand identity. The silicone transfer 3D logo on to woven labels create an amazing beautiful logo design.
Customised PVC and Silicon rubber branding labels are the  best way to add your brand or product logo to any sportive clothes and other outdoor accessories.
Contact us on below info; we will help to customize a bespoke Rubber PVC and Silicone Clothing Label for your textile products.
Telephone: +44 (0)116 3183121 /  Mobile: +44 (0) 7823800552
Email: sales@woven-printed-garment-labels.com
Email: 
wovenprintuk@btinternet.com
https://www.woven-printed-garment-labels.com/