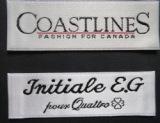 The structure of  satin weave is with four horizontal threads over and one single lengthwise thread under, with less interlacing; this process gives the woven fabric label its characteristics a glossy look, and smoothness finish.
The satin polyester weave creates a  lightweight, soft, smooth, shining, radiant, and silky-finish garment label. The satin woven labels are mostly used for woman's designer clothing labels because of its graceful and stylish, elegant looking quality.
Above is only a small range of the custom-made satin woven clothing labels that we created for our customers;  if you require any further information regarding your label design, please contact us or fill in the online inquiry form.
We weave satin woven fabric labels on broadloom and needleloom.  Both machines create a different end-result and finish.
Contact our sales team on below info, we will help to create an elegant satin woven label  for your designer brand. We offer a free UK delivery service, and very low minimum requirement.
Telephone: +44 (0)116 3183121
Mobile: +44 (0) 7823800552
Email: sales@woven-printed-garment-labels.com
Email: wovenprintuk@btinternet.com