Rubber Clothing Labels
There are two types of Rubber Clothing Labels:  PVC labels and Silicone labels.
Both of our custom-made PVC and silicone Labels are made of environmental friendly materials.  The difference between PVC and Silicone labels are that PVC label is cheaper to produce than Silicone labels, and you can haven any number of colours on PVC labels.  Silicone labels are softer, smooth, and more elastic than PVC labels.  However, the maximum colour you can have on silicone labels is up to 5 colours.
Rubber labels are typically sewn on the outside of sportive garments, bags, and canvas textiles products.
Contact us on below info; we will help to customize a bespoke Rubber PVC and Silicone Clothing Label for your textile products.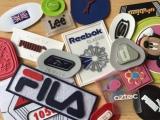 Telephone: +44 (0)116 3183121 / Mobile: +44 (0) 7823800552
Email: sales@woven-printed-garment-labels.com
Email: wovenprintuk@btinternet.com
https://www.woven-printed-garment-labels.com/