Custom-made Printed Herringbone Tapes
If you're looking for a printed herringbone label tapes then, you've come to the right place. We can create completely customized printed herringbone label tape for any piece of clothing or decorative ribbons. Our printed herringbone tapes can be customized to include text and company logos or designs. Our herringbone tapes are available in a number of materials, including satin herringbone tapes, spun herringbone tapes, twill herringbone tapes in ecru cotton, knitted tape stripes, colored polyester herringbone tapes, and cotton, nylon, grosgrain, and jacquard herringbone tapes.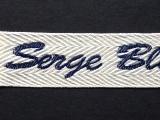 These are woven edge and heat-sealed ends and screen printing solution to achieve the best printing result on herringbone tapes.
We work with you to create the perfect custom design to fit onto your printed herringbone tape. This results in a great looking printing image that you're happy with and compliments your clothing range, making them stick out from the crowd.
Raised-up Printed Herringbone Tape
The raised-up printed herringbone tape is available in cotton and polyester ribbons. We do can raised-up screen printing and 3D logo silicone heat transfer printing.
Contact us on below email, we will help to produce excellent printing quality, vivid, dynamic colour printed herringbone tape for your brand.  We offer affordable quote, low minimum, and free UK delivery
Telephone: +44 (0)116 3183121
Mobile: +44 (0) 7823800552
Email: sales@woven-printed-garment-labels.com
Email: wovenprintuk@btinternet.com