Printed 100% Cotton Fabric Labels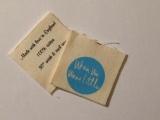 We produce Eco-friendly,  100% cotton labels. Our screen printing (hand-print) solution creates high-definition printed cotton clothing labels.  These soft cotton fabric labels are perfect branding labels for natural fiber apparel, bedding, pillows, and furniture products.  The printing colours of our customized cotton fabric labels  hold extremely well in laundry and machine washing.
The rise of socially conscious consumers means that ethical brands are more popular than ever. Switched-on customers are voting with their wallets and ensuring that they support fashion businesses that are ethical, sustainable and environmentally friendly. Fashion is responding by being 'greener'; using organic materials, soft and nature-inspired designs and choosing production methods that are sustainable. These trends are seen heavily on the catwalk and in the fashion press as buyers seek a more harmonious, natural way of life that helps- rather than harms – the world around us.
Cotton Labels Style
Choose your favorite cotton fabric: twill, taffeta, plain taffeta, herringbone, canvas, and grosgrain cotton fabric.  All cotton fabric are woven edge; the option of widths ranging from 10 mm to 200 mm.  There is no constraint on the cotton label lengths.
The Colours on Cotton Labels
We can print up to 6 colours on cotton fabric labels. You can have any colours you like;  all vivid, and dynamic colours.
Cotton Label Finishes
Due to the nature of 100% cotton fabric label, the fabric has to be cold cut only, and the cutting edge will fray. Therefore, the finished process of cotton label must be two-end fold, or centre-fold.  The fraying is only on the ends that would be sewn into garment/hem.    We can also deliver your cotton labels on a roll.
Best Printed Cotton Labels for Clothing
View customers' review on our cotton labels quality here
Contact our sales team on below email.  We will help to custom and create a 100% nature-friendly,  printed cotton labels for your clothing line, handmade creations, and bedding  products. We  offer competitive quote, free cotton label sampling, and free UK delivery.
Telephone: +44 (0)116 3183121
Mobile: +44 (0) 7823800552
Email: sales@woven-printed-garment-labels.com
Email: wovenprintuk@btinternet.com