Custom Printed Canvas Fabric Labels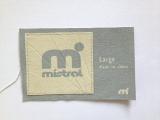 We specialize in custom-made 100 % cotton canvas printed labels. You can choose your favorite canvas fabric and unique printing solution. We can also make photographic printing onto canvas fabric which is a great way to create a unique brand clothes label. Apart from 100% cotton canvas fabric, we also offer canvas-textured paper to suit your special requirement.
Screen Printing Technique
Screen printing is one of the most popular printing techniques to allow for its use in printing on a wide variety of materials such as cotton fabric, rough textiles, paper, glass, and more.   This textile printing is the process of applying colour to fabric in definite designs.  All of our cotton canvas labels are designed and hand printed.
Like all of our label services, we work with you to create the perfect custom design to fit onto your printed canvas label. This results in a great looking label that you're happy with and compliments your clothing range, making them stick out from the crowd.
Telephone: +44 (0)116 3183121
Mobile: +44 (0) 7823800552
Email: sales@woven-printed-garment-labels.com
Email: wovenprintuk@btinternet.com