It is a conjunction usage of metallic yarns and regular yarns.  Metallic woven labels can create an extra feature for your garment labels. You can have metallic gold, silver  and more logo added onto your garment labels.
The high-definition damask weave with lurex thread can recreate the highest  possible lustre for the logo image of your branding  clothes label. They can be washed and will not fade.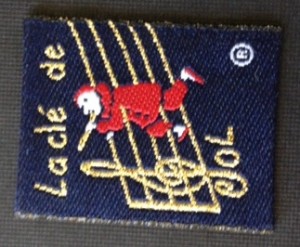 Metallic Labels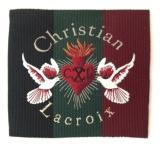 By adding metallic thread to standard yarns, it's possible to create metallic woven labels for a shimmery look.
Metallic woven labels look especially good in clothes that are already glittery, given their shimmer, and for the same reason they're ideal for a fun addition to children's clothing.
You can also use metallic woven labels for textile home accessories, bags accessories and more.
Our customers love our labels because the threads we use are so fine it's possible to create a very detailed woven image. They are also very soft, creating a final effect and feel that's incredibly gentle to the touch.
What's more, we offer our customers a number of great USPs, including free delivery UK-wide, and no sampling costs.
So, let us add an extra dimension to your high-density garment labels, in gold or silver metallic thread and with a logo of your choice added as well.
Remember, the metallic threads will be used alongside our stock of over 600 vibrantly coloured, fine threads with which we fashion our customers' premium-quality designer woven clothing labels.
We've been working in this specialist field for many years, and many of our customers are household name designer brands.
Talk to us about the spec for your labels – we can help whatever the width, length or design of label you want to produce a genuinely bespoke end result.
Get in touch with us today about our metallic woven labels, whether you're a private or a commercial customer.
Telephone: +44 (0)116 3183121
Mobile: +44 (0) 7823800552
Email: sales@woven-printed-garment-labels.com
Email: wovenprintuk@btinternet.com