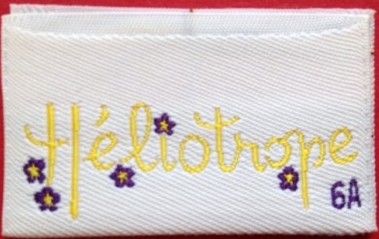 We provide a wide range of custom-made woven fabric labels for kids clothing and accessories. Our customized woven labels are made of finest Italian-threads;  these are the fine quality yarns that help to achieve high-definition woven image.  The woven fabric labels are very soft and lightweight which create a soft touch.
Children love colours. Colour provides a bright side to childhood.   We are able to produce the most colourful woven fabric labels that bring the joy of colour to clothes and homeware for kids of all ages.
The constraint of custom-made woven fabric labels is that each woven label can only accommodate and weave up to 12 coloured threads. Below is a small collection of fabric labels that we created for our clients.
Cotton Labels for Kids
Cotton labels are made of 100 % natural cotton fabric. We are able to hand-print (silk screen print ) a fashion design on a natural cotton fabric label.  Our 100% natural cotton labels are  environmental friendly sustainable labels. It is a very low minimum order requirement, and we offer  a very competitive price.
Contact us today to talk to one of our sales team regarding your brand labels for kids designer clothing.  Our kid's clothing labels are stylish, colourful, hardwearing and all custom designed to your artwork.
Telephone: +44 (0)116 3183121
Mobile: +44 (0) 7823800552
Email: sales@woven-printed-garment-labels.com
Email: wovenprintuk@btinternet.com