Custom Designer Clothing Label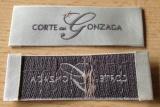 We are so glad to work with a group of the most-promising graduates from fashion and designer schools in England and Europe.
Our custom-made designer clothing labels, especial digital weaving high density woven label, creates bespoke brand designer labels, with a strong focus on their design styles.
Fashion school graduates who work and live from different countries, different cultures, create totally different style of clothing. We carefully listen and work on their ideas and their design specification to create exactly what they expect us to do; we help to build a professional touch by adding this designer woven label to their clothing.
CHANEL Fashion Show 2014

Our best contribution to the new graduate fashion designers is that we provide high-quality brand woven clothing label, at low affordable costs and fast turnaround.
Contact our sales team , we will help to create your designer clothing label at low costs and free UK delivery,