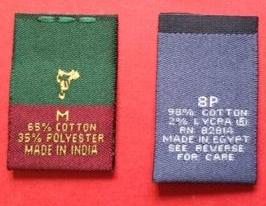 Wash Care Labels carry the important message to ensure that your customers follow the proper fabric care instruction. Our custom-made woven labels are colour fastness, great durability to laundry washing.   The labels also have high-definition weaving resolution, good  care symbols images, and vivid colour designs.
Printed satin labels are the cheaper alternative option. We can do from 100 labels production.  We offer traditional rotary printing and screen silk printing services.  Lead-time for rotary printing is only 3 – 4 days, and 12 days for screen silk printing production.
Cotton labels are very popular clothing labels to use for children's clothes and ethical fashion brands.  They are lightweight fabric labels  and 100 % natural cotton fibres. This is the most comfortable clothing labels against skin.  You can choose your favourite cotton fabric: twill, taffeta, plain taffeta, herringbone, canvas, and grosgrain cotton fabric. We can also offer a low minimum quantity such as 100 cotton labels. .  
We supply many of the UK and Europe textiles retails with woven brand name  labels, care labels, and wash labels.
Care Labels UK Supplier
Contact us on below email, to start manufacturing the bespoke woven fabric  labels to ensure your textile products have correct care instruction.  We sell a selection of clothes washing labels and fabric care labels for garments  and furniture  manufacturers.  In addition to having low minimum quantity,  we offer a very competitive prices. And it is free UK delivery.
Telephone: +44 (0)116 3183121
Mobile: +44 (0) 7823800552
Email: sales@woven-printed-garment-labels.com
Email: wovenprintuk@btinternet.com