Labels for face masks
As England moves towards compulsory face coverings in shops from Friday 24th July, demand for quality, reusable face masks will no doubt increase significantly. As lockdown restrictions gradually ease, more people are likely to spend time in enclosed spaces, increasing the risk of COVID-19 spreading. It has been suggested by the World Health Organisation that wearing a face mask or covering will keep wearers and the people around them safe and less at risk of contracting the disease.
Bespoke labels for face masks
If you are a supplier or maker of face masks, we can provide custom labels for face masks to make sure your business stands out.
We have a wide range of labels to choose from including polyester and 100% cotton labels, to suit your fabrics and designs. For outside labels, our woven polyester labels come highly recommended thanks to their durability.
Woven labels can withstand everything reusable face masks will need them to, looking like new even after numerous washes. Woven polyester is renowned for coping well with frequent hot water washes, which will be essential after each use of a mask.
While disposable masks have become more readily available, as face masks become compulsory in more settings, many people will be looking for reusable options that are more environmentally-friendly. By adding a quality custom label, you can ensure your business is playing its part in helping the nation stay safe while encouraging people to make a more environmentally-conscious choice too.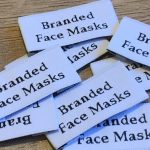 Telephone: +44 (0)116 3183121
Mobile: +44 (0) 7823800552
Email: sales@woven-printed-garment-labels.com
Email: wovenprintuk@btinternet.com
https://www.woven-printed-garment-labels.com/